Key Ingredients
Only GENSEN combines traditional Japanese skincare rituals with advanced technology to bring you healthy and beautiful skin.
GENSEN is inspired by skincare rituals refined over centuries. Rituals based around simple and natural ingredients like plant extracts and the mineral-rich waters of onsen or Japanese hot springs. GENSEN applies new technologies to deliver the benefits of these secret skincare regimes.
Two Main Ingredients - What makes Gensen so unique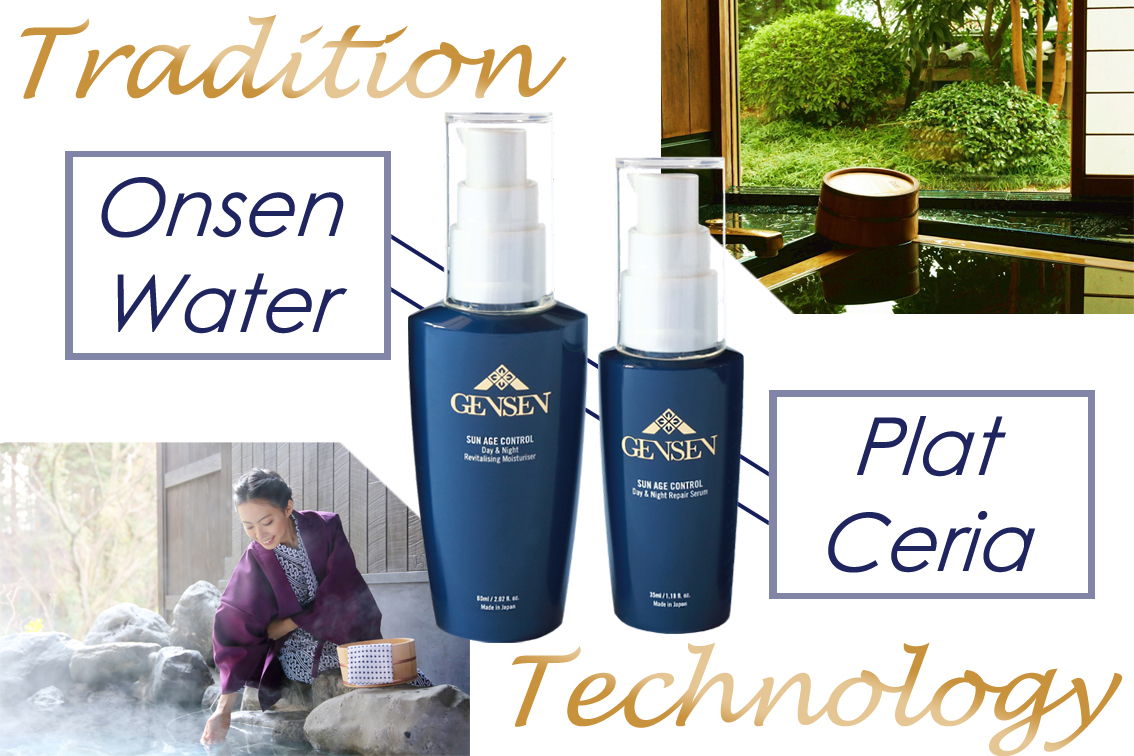 Onsen Water
 For hundreds of years Japanese have enjoyed the relaxing and curative properties of onsen water. Now GENSEN is taking these benefits beyond Japan.
 Water from a special onsen in Miyazaki in southern Japan is the core ingredient in all GENSEN products. The water has a perfect balance of minerals and iodine and is known for its skin-restorative powers. Soothing irritated skin, smoothing fine lines and accentuating the skin regeneration process. It also has anti-inflammatory and anti-infection properties.
Plat Ceria
 "Plat Ceria" is a new generation ingredient created with advanced technology. Plat Ceria is the rare earth element cerium oxide (ceria) with a coating of platinum. Cerium oxide is an effective UV-scattering agent, reflecting both UVB and UVA rays. The platinum coating makes it highly dispersible and prevents oxidation.
Whereas the UV-scattering compounds titanium dioxide and zinc oxide require emulsification in oil-based agents, Plat Ceria is suitable for water gels and lightweight lotions.
The Plat Ceria in GENSEN products provides protection against UV in a non-greasy base and with no residual whitening of the skin.
Additional Beauty ingredients - for younger more luminous skin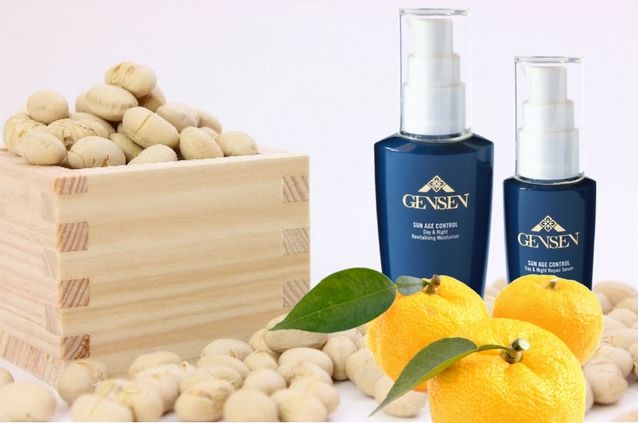 Plant Antioxidants
Antioxidants are naturally occurring compounds that can neutralise free radicals and prevent them from damaging the cells. Antioxidants in skincare products can improve the health and appearance of the skin. Helping to firm the skin, reduce scarring, reduce the appearance of wrinkles and repair sun damage.
GENSEN products harness the powerful antioxidants in Japanese citron (Yuzu), chamomile flower and soybean seed.
 Squalene
Squalene is an antioxidant-rich organic compound. In GENSEN products, squalene acts as an emollient protecting the skin from moisture loss and shielding it against environmental toxins.
 Collagen
Collagen is the fibrous protein that holds the skin together. In young skin, the collagen is intact and the skin is moist and elastic. As the skin ages the collagen wears down and the skin loses its tone.
Collagen in GENSEN products helps keep the skin moist and supple.
 Hyaluronic Acid
Hyaluronic acid is a gel-like water-holding molecule. Hyaluronic acid can help retain more than 1000 times its weight in water within the skin's cells. Hyaluronic acid is an excellent moisturiser and another key ingredient in GENSEN products.