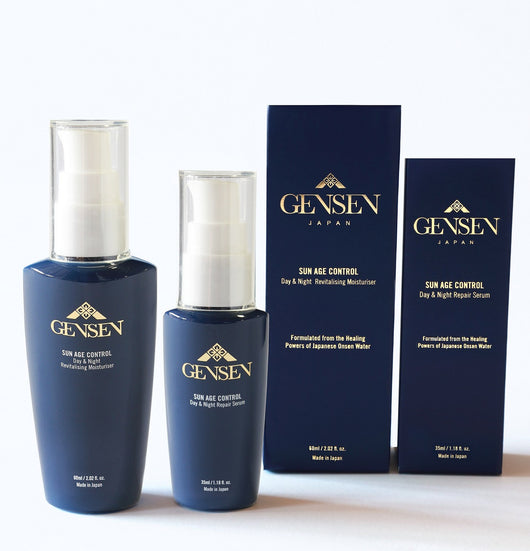 SUN AGE CONTROL Beauty Set
Regular price $196.00 Sale
The Sun Age Control set includes a 35ml Day & Night Repair Serum and 60ml Day & Night Revitalising Moisturiser for beautiful healthy skin.
With powerful protection and the ability to turn back the clock on your skin. GENSEN promises youthful more radiant skin.
The products are formulated from the natural waters of an onsen (hot spring) in the Miyazaki region known for its skin-restorative properties. The serum penetrates deep within the layers of the skin to smooth fine lines, hydrate the skin and boost the skin renewal process. The moisturiser is lightweight yet luxurious.
Both products contain new generation Plat Ceria for protection against the sun. Using advanced technology Plat Ceria takes UV-scattering cerium oxide and coats it in platinum to aid dispersal. Pat Ceria protects against UVB and UVA rays without the "ghosting" effect or greasiness of many titanium dioxide or zinc oxide-based formulae.
Application:
Sun Age Control Repair Serum and Revitalising Moisturiser are suitable for all skin types for use every day and night.
Cleanse and tone the skin then gently smooth the serum on the face, neck and décolletage. Allow the serum to fully absorb into the skin before finishing with revitalising moisturiser.